Houston, TX (July 5, 2018) – Freedom CNG hosted the first annual Freedom4Freedom event this past Monday, July 2nd, at two Houston area Freedom CNG fueling stations. Co-hosted by Houston Distributing Company (HDC) and METRO, Freedom4Freedom promotes the freedom of our nation, improving Houston's air quality through the widespread adoption of alternative fuels, such as Compressed Natural Gas (CNG), and the freedom from oil prices that drastically affect the price of diesel and gasoline. Freedom thanked all of its customers, at the two stations; with breakfast in the morning and a barbecue at night, for all of the great work they do reducing their emissions and advocating clean fuels.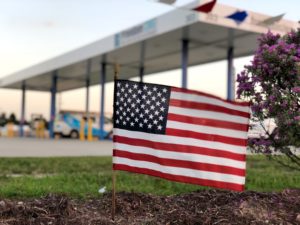 The summer months are some of the busiest, with the 4th of July being the most congested day on US motorways. Reducing mobile emissions is the most effective way to reduce Nitrogen Oxide Gas (NOx), which creates ozone and smog. Major cities and local companies are going green by transforming their transit bus and delivery truck fleets into environmentally friendly operations by adopting CNG power.
Cities such as Los Angeles, New York, and Dallas have already established their CNG bus fleets with 2,855, 1,143, and 639 buses respectively.
Houston has started to expand its CNG fleet with the addition of 20 new buses, from New Flyer Industries, adding to a 50-bus CNG fleet. METRO uses Freedom's north Houston facility located in Pinto Business Park located at I-45 and Beltway 8, which is close to one of six METRO bus depots that serve the Greater Houston Area.
UPS is a nationwide leader in CNG adoption, recently adding 700 natural gas vehicles, and investing $130 million dollars in CNG fueling infrastructure across the country. Locally, HDC has been utilizing 130 CNG vehicles to deliver MillerCoors brands and imported craft labels to retailers, restaurants, and local establishments throughout Houston. HDC uses Freedom's northwest Houston facility located at Highway 290 and Beltway 8, which is across from the main distribution warehouse.
Freedom CNG promotes improving Houston's air quality by reducing NOx emissions through the adoption of alternative fuels, like CNG. Freedom encourages the adoption of clean and affordable CNG for our customers through education, training, workshops and grant writing support for those willing to adopt CNG as a cleaner fuel choice.
For Interviews or Comments:
Eddie Murray – (832)-233-1189 – Eddie@freedom-cng.com – Freedom-CNG.com – LinkedIn